Final Discount - Save Up to 33% - Ends May 10th
Santa Barbara Medical Cannabis Conference & Expo


Are you or a loved one suffering from cancer, chronic illness, pain, or emotional health issues?
Sat, May 11, 2019 from 7:30am - 6pm
EXPO Exhibitor free samples & giveaways
Music and Food Providers
Speakers and programs subject to change without notice
No refunds 30 days or less from the event
Must be 18+
Welcome to the Santa Barbara Medical Cannabis Conference & Expo - and Discover Relief NOW
Advanced Discount - Save up to 33% - Ends May 10th.
Join over 300 attendees will see and hear 2 Keynote and 8 Workshop presentations that cover a broad range of leading-edge topics including:
Evidenced-based science of medical Cannabis vs. pharmaceuticals;

CBD and medical Cannabis types, derivatives and dosages for specific ailments;

Growing your own organic medical Cannabis and delivery methods;

How medical Cannabis and CBD is treating cancer, chronic illness, debilitating pain, MS, Alzheimer's, insomnia, inflammation, depression, anxiety and trauma.
This conference provides you a powerful and affordable way to live free of many ailments that pharmaceuticals only mask, but do not heal.
The Santa Barbara Medical Conference & Expo is being held at the historic Veteran's Memorial Building directly across from West Beach on May 11, 2019 from 7:30AM – 6:00PM (check-in from 7:30 – 8:30AM). In addition to the 9 presentations there will be music, food vendors and all presentation-ticketed attendees receive a SWAG BAG to hold free samples and giveaways from Expo exhibitors!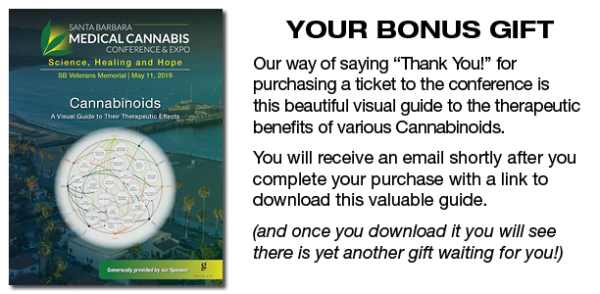 KEYNOTE TOPICS (60 minutes each):
How to Treat Cancer with Cannabis

– Dr. Joe Goldstrich

Breaking the Cycle of Opioid Addiction: Supplement Your Pain Management with Cannabis

- Uwe Blesching, Ph.D.
WORKSHOP TOPICS (60 - 90 minutes each):
Your Roadmap to Transition from Pharma to Cannabis Healing

– Karen Mankins, RN

Cannabis 101: The Plant, Your Body and How It All Works

– Liz Rogan

CBD: What Every Consumer Needs to Know for Maximum Therapeutic Benefit

– Robbin Lynn

Medical Cannabis and Your Health: From Improving Your Day to Saving Your Life

– Stacy J. Shymansky

Medical Cannabis: Healing Mind, Body and Spirit

– Michael Scott, Filmmaker

How to Grow and Prepare Your Own Organic Medicinal Cannabis

– Seth Matrisciano

Cracking the CBD Code: The History, Science and Technology

- Will Kleidon

Cannabis Kitchen: How to Make Your Own Delicious Infused Edibles -

Mathieu Vieth